Title
West Oxfordshire Apprenticeship Event, 19th October, 5-8pm, Witney Lakes
Oxfordshire Apprenticeships has joined forces with a partnership of schools in West Oxfordshire to bring a fantastic opportunity to find out all about Apprenticeships to local young people and their families. The West Oxfordshire Learning Partnership, comprising of 7 schools and Abingdon & Witney College, are delighted to be welcoming Year 10-13 students and their families to their annual autumn West Oxfordshire Apprenticeship Event on 19th October from 5-8pm at Witney Lakes Resort.
The event is also open to the public and the partnership hopes that local young people will make the most of the opportunity to find out all about current Apprenticeships on offer in the west of the county.
With around 40 Apprenticeship employers and training organisations representing a wide range of sectors signed up to attend, the event will give young people the opportunity to find out about Apprenticeships available locally and chat with current Apprentices about their career choices and pathways to help them make an informed decision about their future career.
Presentations at 5pm and 7pm will include information on Higher and Degree Apprenticeships at global market research company Nielsen from Learning and Development Manger Joanne Bungay and an insight into the Apprenticeship route into law from Legal Apprentices at The Burnside Partnership Chloe Penniston and Cyra Sula-Minns.
Harriet Sherriff, a Finance Apprentice with BMW, attended the event as a student at Henry Box School in Witney. She says: "I attended the event to learn more about Apprenticeships so that I could explore my future career options after finishing my A Levels. The event initially began with a presentation to give an overview of what Apprenticeships are and why they are a very good alternative route to university. Afterwards, we had the opportunity to speak to a variety of companies and ask them questions in order to understand what their Apprenticeships could offer you. I spoke to multiple different companies, including BMW, my current Apprenticeship employer."
"I found the stands very informative and being able to talk to current Apprentices gave me an insight into what life as an Apprentice would be like. This event consolidated in my mind that an Apprenticeship is the best route for me and I applied to the Apprenticeship at BMW. Having been an Apprentice for a year now, I am still certain that it was the right route for me!"
Harriet will be on the BMW stand at the event this year to give other young people the opportunity that she benefitted from as a student to talk honestly and openly about what it's like to be an Apprentice. Also exhibiting will be Blenheim Palace, Airbus Helicopters, Owen Mumford, RM Education, Hunts, Thames Valley Police, Air Tanker, Maylarch, Oxfordshire County Council and the NHS among others.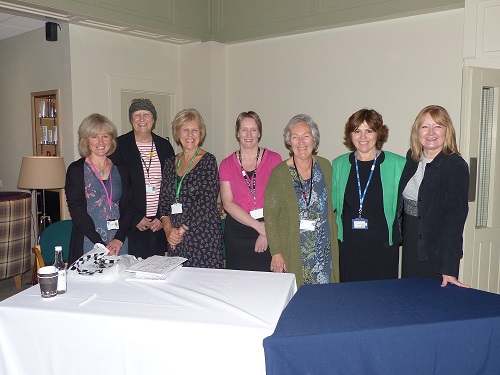 Better together - the team of careers leads from Bartholomew School, Carterton Community College, Wood Green School, Henry Box School, Chipping Norton School, Burford School and The Marlborough School, who make up the West Oxfordshire Learning Partnership at last year's event.