Title
Let's hear it for the girls! Women in Engineering Day, 23rd June 2016
Today is National Women in Engineering Day, which takes place annually on 23rd June to raise the profile of women in engineering and focus attention on the amazing career opportunities available to young women in this exciting industry.
We have some amazing young female Engineering Apprentices in Oxfordshire, who are fantastic role models for both the sector and Apprenticeships in general. Find out how three female Engineering Apprentices have gone the extra mile to raise awareness of what they do and why Engineering is so amazing…
Emily Swatton
Emily is a Mechanical Engineering Apprentice (Technician) at Culham Centre for Fusion Energy (CCFE). She is a fantastic role model for young women in engineering, which was recognised when she won a scholarship in the 2015 Women in Science and Engineering (WISE) awards last November. WISE is a national campaign to increase the number of women in science, technology and engineering careers. 
Emily's most recent achievement is winning the Brathay Apprentice Challenge 2016 with 8 other CCFE Apprentices. The team beat 80 other Apprentice teams in a challenging nationwide competition that included raising awareness of Apprenticeships with young people and employers in Oxfordshire. Emily says: "To me, the Challenge presented a chance for me to develop myself as a team player. I feel the challenge has really developed me in that it has boosted my confidence and given me the mentality that if I persevere, I can succeed."
Emily also recently won the Engineering Trust First Year Mechanical Apprentice Award, helping to keep women in engineering in the spotlight in Oxfordshire. 
Emily says: "Being in an engineering environment can often mean I'm in a male dominated department, which can sound daunting to younger females entering the industry; however, my colleagues and supervisors are all extremely helpful and friendly and treat me no differently from anyone else. It encourages and motivates me to work hard to show that I am capable of doing the same tasks as any other employee on site. Women are becoming more present in engineering and technician jobs, especially on Culham site and we often support each other and share our experiences. Culham was awarded the Bronze Athena Swan award to recognise the efforts to improve gender equality." Read more about Emily.
Zoe Adams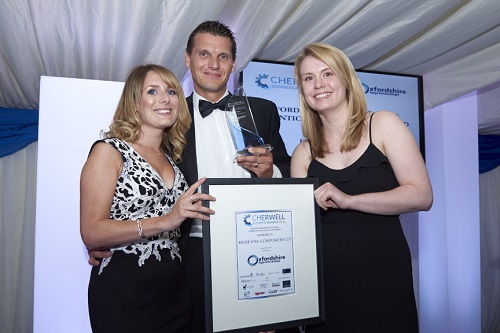 Zoe also started an Electrical Engineering Apprenticeship in September 2013 at Jacobs Douwe Egberts in Banbury. She is working towards an engineering degree, paid for by the company, alongside her Apprenticeship. For the past year, Zoe has been supporting Oxfordshire Apprenticeships as an Apprenticeship Ambassador, attending careers events, running workshops and talking to young people and their families about her Apprenticeship and where it has led her career. She was invited to join the judging panel for the 2016 'Apprenticeship of the Year' award at the Cherwell Business Awards and present the award to the winner, High Spec Composites, which she did in front of over 230 people at the Awards Dinner in June. Zoe says: "Presenting the award to this year's winner was for me a great achievement. When I started my Apprenticeship I was very shy and struggled to speak in front of people, so being an ambassador has improved my self-confidence. This then gave me the chance to do this speech, which was great, if not terrifying at the same time!"
Zoe says: "Being a woman should never be something that puts you off following a career in engineering. Some real inspirational engineers are female. Take Leena Gade for example, she was the first female race engineer to win the Le Mans 24 Hour race in 2011 and has won it numerous times since. For me her quote: "What I struggle to understand most of the time is the fuss that's around me because I'm just another one of the team. I'm not more special than anyone else. I just happen to be female." is a very true statement and one that many women in engineering can relate to." Read more about Zoe.
Jade McGinnity
Jade is the first female Electrical Engineering Apprentice at Lucy Electric in Thame. Jade started her Apprenticeship in September 2013 and has continued into higher education, working towards a foundation degree in Electrical and Electronic Engineering at Abingdon & Witney College and planning to go on to the BSc top up course at Oxford Brookes in the future. Jade is setting a fantastic example to other young women, which was recognised in March this year when she won the Freemen of Oxford Award for Electrical Engineering.
Awards secretary and Chairman of Oxfordshire County Council, John Sanders, who presented the awards said: "Interestingly, five of our nine most outstanding Apprentices over the years have been young women. Jade McGinnity's award is a real accolade for the first woman Engineering Apprentice at Lucy Electric. We were also pleased to make an award for Maintenance Engineering to Rebecca Pallot at BMW, a company who have encouraged many young men and women to take up Apprenticeships in engineering."
Jade says: "If young women think they might be interested in engineering I would say try it and not let the fact that it is a male dominated profession put them off." Read more about Jade.
Go girls!
It's fantastic to see such amazing and successful female Engineering Apprentices encouraging other young women in Oxfordshire to consider a career in Engineering. What wonderful role models!
Find out more about National Women in Engineering Day at: www.nwed.org.uk and join the conversation on Twitter using the hashtag #NWED2016.