Title
Meet Oxfordshire Apprenticeship Awards Apprenticeship Ambassadors of the Year Mat and Olivia
The Oxfordshire Apprenticeship Awards recognised the best talent in the county with a special presentation evening on Tuesday 24th April 2018 in the beautiful setting of The Orangery at Blenheim Palace.
In addition to celebrating the successes of Oxfordshire's Apprentices, employers, schools and training providers, the Awards also gave us the opportunity to recognise our Apprenticeship Ambassadors through both an Ambassador of the Year Award and the presentation of certificates to 10 Ambassadors for outstanding commitment to the scheme.
The Apprenticeship Ambassador Award was sponsored by OxLEP in recognition of the support that the Ambassadors give the OxLEP Skills team at a wide variety of careers activities and initiatives, from human libraries to Apprenticeship workshops. The OxLEP Skills team had the extremely difficult task of deciding on a winner and in fact chose two joint winners, as it was impossible to choose between them!
The winners were Olivia Buckingham, Youth Work and Community Development Apprentice at Oxford City Council and Mat Thomas, Electrical Apprentice at Darke & Taylor, both former students at Gosford Hill School in Kidlington.
Olivia has a natural rapport with young people. Her honesty and openness when talking to them about her own experiences around career choices enables her to build relationships with them in a short space of time - such as an Apprenticeship workshop - since they relate to her and feel comfortable opening up to her.
Olivia epitomises the reason for having an Apprenticeship Ambassador scheme. When she joined in May 2017, Olivia was very (understandably) nervous of the duties that she may encounter, such as public speaking in school assemblies and lessons. Olivia has come such a long way since then, having set herself personal goals to achieve as an Ambassador and taken herself way out of her comfort zone to achieve them, through joining us at events and doing things that she never thought she would be able to do. Find out more about Olivia.
Olivia said: "I am so pleased to have jointly won the Award with Mat! I love being an Ambassador and it is such a lovely feeling to have something to show for the work we do with you. I feel so appreciated and proud of winning, thank you!! The awards evening was amazing, everybody enjoyed themselves and felt appreciated for the great things they do!"
Mat is one of our longest serving Apprenticeship Ambassadors, having joined the scheme in October 2016. He is also one of our busiest and most helpful, always going that extra mile to be a really great Ambassador. Mat thrives when speaking to a group, whether it be parents, students, teachers or professionals. Mat's passion for Apprenticeships and helping others understand where they can lead is truly inspirational. Find out more about Mat.
As well as taking part in a wide variety of careers events across the county, both Mat and Olivia have been back to their former school, Gosford Hill School, to share their experiences and help students make informed career choices.
Congratulations to Mat and Olivia and also to the other Apprenticeship Ambassadors recognised for their commitment to the scheme:
Kyle Carrigan, Marketing Apprentice, Jewel Training
Amy Elrington, Business Admin Apprentice, Webmart
Tom Gascoyne, Marketing Apprentice, The Henley College
Jess Le Jeune, Commercial Associate, Nielsen
Hannah Maughan, Legal Services Apprentice, Oxford University Hospitals NHS Foundation Trust
Chloe Penniston, Legal Services Apprentice, The Burnside Partnership
Emily Rose, Analytical Chemist Apprentice, Green Biologics Ltd
Cyra Sula-Minns, Legal Services Apprentice, The Burnside Partnership
Nicola Trinder, HR Apprentice, Oxford City Council
Katherine Whitcher, Software Development Apprentice, University of Oxford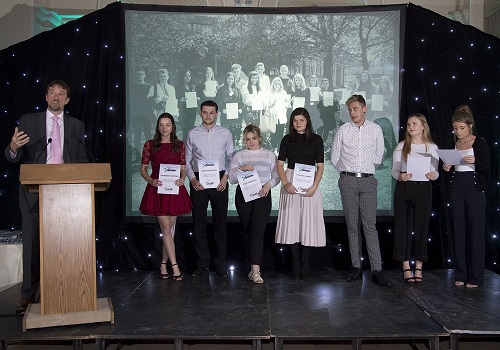 We are very proud of our Apprenticeship Ambassador scheme and the amazing work that all our Ambassadors do. Find out more.