Title
Meet Oxfordshire Apprenticeship Awards Higher Apprentice of the Year Jess Le Jeune
The inaugural Oxfordshire Apprenticeship Awards recognised the best talent in the county with a special presentation evening on Wednesday 8th March 2017 at the Marlborough Enterprise Centre in Woodstock, during the 10th National Apprenticeship Week.
The Higher Apprentice of the Year Award was won by Jessica Le Jeune, a Business Innovation & Growth Apprentice with Nielsen, a leading global information and measurement company, based in Headington, that provides market research, insights and data about what people watch, listen to and buy.
Jess started her Level 5 Apprenticeship in September 2015, working to become an analyst in their Sales Effectiveness Practice Area, primarily on their assortment analytics solution. This has involved self-directed learning to understand and be able to explain to prospective clients the methodology underpinning an advanced analytic solution. Jess has helped to grow the assortment business by 40% year on year, through her assistance in both the delivery and commercial engagement of the product.
In addition to developing an understanding of the business and methodology and being able to communicate this in a clear and engaging manner to clients, Jess has also developed presentation and project management skills, taking on responsibility where required to progress projects and ensure successful delivery to happy customers.
Jess's manager, Michael Stokes says: "From the outset, Jess has shown an ability to easily build rapport, engage and present to clients. These commercial skills have been sharpened not only through her work in her home team but also during her rotations, on which she has had the opportunity to work with one of our platinum clients on a more continuous basis, onsite."
"Despite her proficiency and development on these skills, it is perhaps her personal impact that Jess is most recognised for more widely at Nielsen. Jess shows great initiative and enthusiasm in everything she does and this drive has likely helped her to thrive. When workload is light, she always puts herself out to help other teams, who not only appreciate the helping hand but the quality of what she delivers. This engaging style has meant that, even though Jess is still only relatively new to the business, she has a wide network throughout the organisation."
"Jess has demonstrated a very high level of responsibility for someone new to the industry. From presenting to an audience of 200 of our most important clients to winning £50k of new business, Jess has delivered great value to Nielsen. Her fresh ideas, motivation and enthusiasm to the scheme and the business is highly regarded!"
The Higher Apprentice of the Year Award was sponsored by Integration Technology Ltd, a pioneering designer and developer of ultra-violet (UV) curing solutions for ink jet printing, as well as other emerging technologies.
Chief Executive Adrian Lockwood explains why they chose Jess as their winner, against some very tough competition. He says: "Jess blew us away for someone of her tender years (and we have met many Apprentices in our time)! She has excellent communication skills well beyond her maturity (for example presenting to an audience of over 200 at a conference) and is a very live wire and lateral thinker. She has made a real impact with her employer and can very clearly articulate the benefits of her Apprenticeship and also of the wider programme."
"Outside of work and training, Jess has worked as an Apprentice ambassador for Nielsen, visiting schools to help promote the benefits of Apprenticeships and has also been engaged in community projects. Furthermore, Nielsen have selected Jess to mentor two of the following year Apprentices, which is indicative of the regard in which they hold her."
"We decided to attempt to list the adjectives that sum up Jess and these are; passionate, tenacious, resilient, articulate, motivated and conscientious. Ultimately a worthy winner!"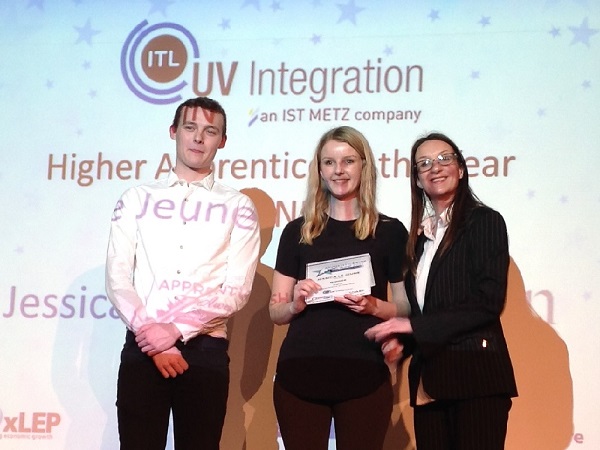 Jess receving her award from Higher Apprentice Jay Shadbolt and Marketing Manager Staci Reeson of Integration Technology Ltd.
Jess says: "I could not feel happier to have been awarded with the title of Oxfordshire's Higher Apprentice of the Year. Since starting my Apprenticeship in September 2015, I never could have imagined all of the challenges that would have been thrown my way, nor the personal and professional growth that I have experienced. 2016 was a very big year for me, it tested my character, the way I deal with difficult situations and the way I handle the unexpected. Therefore, I could not feel more proud for all of my hard work to have been recognised in the shape of this award... so thank you! This has motivated me to ensure that within the final year of my Apprenticeship, I continue to live up to this title and get my dream job at the end of it!"
"For anyone who is thinking about doing an Apprenticeship, there are two words I would say to them: do it. It is such a valuable experience, which will enable you to become proud of the person you will undoubtedly become. You will learn lessons that you can carry through to your personal life, such as how to deal with situations that stretch you and how to tackle challenges. Essentially, the scheme helps you to become a better you, and turns your weaknesses into strengths - which subsequently will enable your confidence to shine through."
We are delighted that Jess will be joining Oxfordshire Apprenticeships as an Apprenticeship Ambassador in May, helping to inspire the next generation of Apprentices and sharing her words of wisdom with young people across Oxfordshire as they decide upon their future careers.