Title
Olivia Buckingham
Olivia Buckingham went to Gosford Hill School in Kidlington and spent a year at college before finding her perfect job as a Youth Ambition Apprentice with Oxford City Council.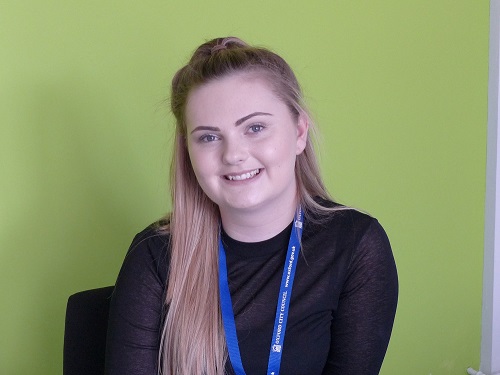 Why did you choose to do an Apprenticeship?
During school, Apprenticeships were not considered by many young people as we were unaware of them. It is usual for schools to push for young people to attend either a college or sixth form and Apprenticeships aren't spoken of as much. I went to college for one year and realised it was not suitable for me, I wasn't enjoying the way of learning and wanted something much more practical. I then began to look into other options and when I heard about all the positive things with Apprenticeships, I couldn't wait to start applying.
How did you find out about your Apprenticeship?
While in a break at college, I bumped into a teacher from my secondary school. He asked how I was getting on and wanted to know about my course and where I want to be in the future. I explained to him that I did not feel college was the best place for me to learn and that I wanted something more practical. He then mentioned he is working for Youth Ambition, Oxford City Council and that they have an available Apprenticeship starting in September. I looked online to see the job description and felt overwhelmed as it sounded perfect for what I wanted to do in the future.
What have you gained from your Apprenticeship?
I feel so lucky that I am doing an Apprenticeship as I have had so many opportunities to learn new things. I have learnt how to act in a professional environment, how to work with young people and how to be a good member of a team. The training opportunities are amazing and I have been able to get so much experience in the work rather than just reading about it.
What do you plan to do next?
I am very happy working for Youth Ambition so I really hope there is a job available for me to apply for once I finish my Apprenticeship. If there is no job available, I will apply for other jobs in Oxford City Council with young people as this is my passion.
How will your Apprenticeship help you achieve this?
I am working towards my appraisal objectives which enable me to learn how to be a good youth worker. My manager and team are incredibly supportive and help me to learn more each day. Being an Apprentice gives you real experience so you have already been part of a team and ready to take on the job before applying.
What advice would you give a young person who might be thinking about an Apprenticeship?
Go for it! There are so many more benefits in being an Apprentice than you would think! The experience and learning you will receive during the time of being an Apprentice will help you so much with next steps. I haven't had anything negative come from being an Apprentice and think it is, so far, my greatest choice.
What's your top tip?
Be yourself and take every opportunity given to you with open hands!
How do you feel about becoming an Apprenticeship Ambassador?
I am extremely happy about becoming an Apprenticeship Ambassador as I really hope I will be able to help young people choose the best option for them to become happy and successful in their careers.