Title
Kidlington ApprenticeSHOP success
Our latest pop-up ApprenticeSHOP opened in this half term in The Kidlington Centre, who kindly let us take over a unit for 3 days. See some of our photos on Facebook.
Lots of people came in to ask us about Apprenticeships, including 26 potential future Apprentices, 24 parents and 4 employers. Most of the younger visitors came with a parent, which gave them the opportunity to ask questions too and feel better informed when supporting their son or daughter.
Hope popped in with mum Lucy to find out about Apprenticeships as an option for when she finishes A Levels next year. Lucy said: "It's great to have this here and have people to talk to. You can Google and find the national website but now we know where to look locally too and it really helps to talk through options with someone."
Another mum who visited with her daughter said: "When you're a 'first time mum' it's really difficult to know where to start, you can feel quite on your own. It's really useful to be able to talk to people about it not just look at a website. It's reassuring to talk things through and now we know who we can ask for advice and help."
Ellis is currently looking for an Engineering Apprenticeship, preferably in motorsport and came in with his dad for some advice about where to look and the application process.
Natalie, 17 and Richard, 19, popped in on their way back from Oxford Parkrun! Richard is looking for an IT Apprenticeship and Natalie is currently in Year 13 and considering an Apprenticeship when she finishes school next year.
We also met Paul from Holywell Press, who's looking for a Machine Print Apprentice and asked us for some support with promoting the opportunity.
We were joined by Apprenticeship Ambassador Charlotte on Friday, who was able to offer advice and talk about her experience of being a Business Admin Apprentice.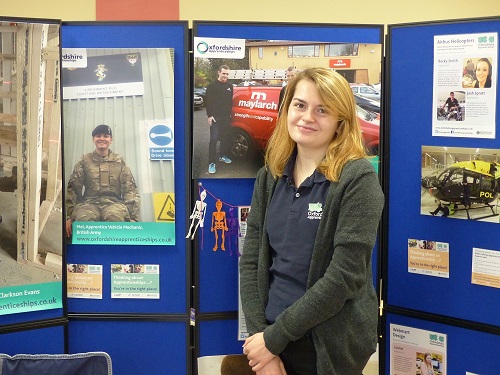 We were made very welcome by our neighbours, including the lovely Magenta Café and amazing new sweet shop The Box of Delights. Thanks also to Emerald Cube for supplying our WiFi! We're really grateful for the support of The Kidlington Centre and hope that we can visit again sometime!
If you'd like us to bring an ApprenticeSHOP to your town or village, get in touch on 01865 323477 or info@oxfordshireapprenticeships.co.uk.