Title
Science careers evening for girls at the Dunn School of Pathology, 14th December, 6pm
The University of Oxford offers a fantastic range of science, technology and engineering undergraduate and postgraduate courses and Apprenticeships across its many STEM departments. They receive a lot of applications from males and so are keen to encourage female students to consider a career in science and to find out about the opportunities available to them when they leave school.
They are holding an open evening for young women at the Dunn School of Pathology on Wednesday 14th December, which will give them the opportunity to hear from some inspirational female scientists who have started their career at the University of Oxford. The programme for the evening is as follows:
18:00 – arrival and refreshments
18:15 – Ana Clark, 2nd year DPhil student: hear about the work on penicillin at the Dunn School of Pathology and find out what it's like to do a PhD with the University of Oxford (pictured above are 'Penicillin Girls' at the Dunn School)
18:30 – Sophie Jamieson, former Lab Technician Apprentice: hear about Sophie's experiences as a University of Oxford Apprentice in the Jenner Institute and how she is now studying towards a degree in science (pictured below)
18:40 – tour of the Dunn School of Pathology
19:15 – Clive Shepherd, University of Oxford Apprenticeships Manager: find out about the wide variety of Apprenticeships on offer at the University of Oxford and how to apply for them
19:30 - finish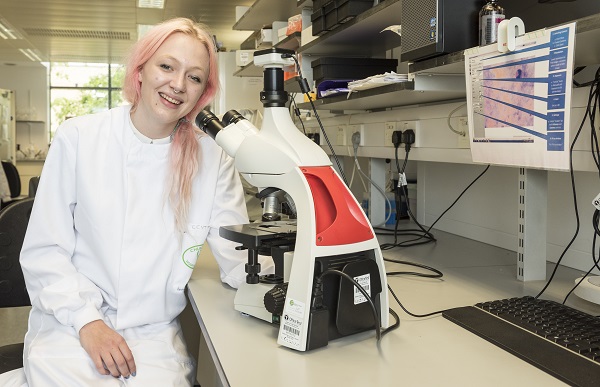 This is a unique opportunity to see inside a building that has played a significant role in the development of modern day medicine, including demonstrating the therapeutic value of penicillin. Its research programme today includes the cellular and molecular biology of pathogens, the immune response, cancer and cardiovascular disease. 
The event is open to female students in Year 11 and above. Places are limited to 40, so we aren't able to invite parents too but parking is available at the Dunn School to help with transport.
We will need to know numbers in advance, so if you'd like to attend, please contact info@oxfordshireapprenticeships.co.uk to book a place by Friday 9th December. 
The address is Sir William Dunn School of Pathology, University of Oxford, South Parks Road, Oxford, OX1 3RE. Find out more about the Dunn School at: http://www.path.ox.ac.uk.