Title
Tomorrow's Engineers Week, 5-9 November 2018 – meet our Engineering Apprenticeship Ambassadors
Returning for the sixth year, Tomorrow's Engineers Week (#TEWeek18) takes place from 5-9 November 2018 and aims to change perceptions of engineering among young people, their parents and teachers and to inspire future engineers.
We have three amazing Mechanical Engineering Apprentices working with us as Apprenticeship Ambassadors, helping to raise awareness of both Engineering and Apprenticeships by sharing their experiences with school students as they consider their career options. Find out how Abi, Usaamah and Katherine are going the extra mile to raise awareness of what they do and why Engineering is so great…
Abi Crawforth
Abi Crawforth is a Mechanical Engineering Apprentice with Williams F1 in Grove and currently finishing her NVQ Level 3 Extended Diploma in Mechanical & Manufacturing Engineering portfolio. Abi initially went through a two-year rotation programme in various areas amongst the business including composites, inspection, model shop and fabrication. Now in her third year, Abi has chosen to specialise in CNC machining.
Abi's main responsibility is the programming, setting and running of various CNC lathes within the department. These produce complex tight tolerance components which range from hydraulic systems parts to transmission and suspension components for F1 race cars. Abi works within a fast paced and high-pressured environment, working to tight deadlines and meeting ambitious targets. She works well under pressure and always brings a positive attitude and strong impact to her team.
Abi is a fantastic role model for young women in engineering and challenges stereotpyes of women and young people within a male dominated environment. Her attitude and ability have won her the respect of managers and colleagues alike. She has overcome challenges with dyslexia to achieve amazing results throughout her Apprenticeship.
Abi has been back to her former school, Lord Williams's School in Thame, to talk to students and parents about her experience as an Apprentice and taken part in International Women in Engineering Day activities with her employer.
Abi says: "My experience in this Apprenticeship so far has taught me so much more than the job itself. I like to call it a Life Apprenticeship. Your colleagues, management, HR and fellow Apprentices all make up your daily interactions and they can all teach you so much."
Read more about Abi.
Usaamah Latif
Usaamah is a Mechanical Engineering Apprentice with BMW Group UK at MINI Plant Oxford and is 2 years through his 4 year Apprenticeship. In his role, Usammah does 3 month placements in different departments across the business, from defect analysis in the assembly area to 'squeaks and rattles' to launch steering - working with products when they are conceptualised and putting them into the production facility.
Usaamah chose to do an Apprenticeship because he wanted to do something practical and liked the idea of gaining industry related work experience whilst learning. As part of his Apprenticeship, he gained a Level 3 BTEC in his first year, which involved learning in the specialised on site training facility. He is now working towards a mechanical engineering degree, spending 2 days a week at university and 3 days a week in the plant.
Once he has completed his Apprenticeship, Usaamah hopes to progress into a role with more responsibility within BMW or another employer, such as project management. He says: "In my opinion, even though I've gained plenty of knowledge in multiple areas of the automotive manufacturing industry, my biggest achievements are probably my drastic improvement in soft skills and attitude in a professional environment."
Usaamah enjoys visiting schools and helping young people understand the benefits of Apprenticeships so that they can make informed career choices.
Read more about Usaamah.
Katherine Mordecai
Katherine is a Mechanical Engineering Apprentice with the Science & Technology Facilities Council's Rutherford Appleton Laboratory. She started her Apprenticeship in September 2015 after completing GCSEs at Burford School.
The opportunity to work abroad as part of her Apprenticeship appealed to Katherine, as did the chance to gain work experience through working on exciting projects in a variety of placements across the site, experiencing different environments and learning from expert colleagues. Katherine has gained practical knowledge and hand skills - such as machining and welding - through an NVQ Level 3, whilst also developing her academic knowledge through a BTEC Level 3 and HNC.
As an Apprenticeship Ambassador, Katherine has given talks at her former school and attended careers events across the county to help raise awareness of the opportunities to gain higher level qualifications and invaluable work experience that an Engineering Apprenticeship can offer.
Katherine's advice for other young women considering a career in engineering is: "Never stop believing that you can do engineering and go and see/look around some engineering places to get an idea of what it is all about. Never let just one person put you off a career in engineering as their experiences may be nothing like yours."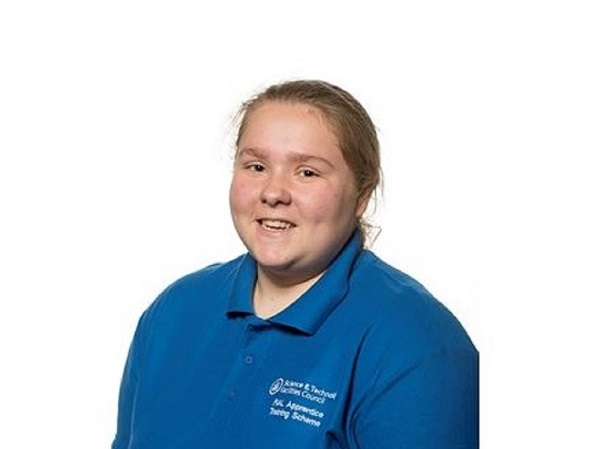 Read more about Katherine.
We are so proud of our amazing Engineering Apprenticeship Ambassadors and their commitment to encouraging other young people in Oxfordshire to consider a career in Engineering. What wonderful role models!
Find out more about Tomorrow's Engineers Week at: www.tomorrowsengineers.org.uk/tomorrows-engineers-week-2018 and join the conversation on Twitter using the hashtag #TEWeek18.