Title
Introducing the University of Oxford - Oxfordshire Business Awards Apprenticeship of the Year finalist
Congratulations to the University of Oxford on being selected as one of our Oxfordshire Business Awards Apprenticeship of the Year 2017 finalists! Read on to find out what makes their Apprenticeships stand out from the crowd...
The University of Oxford, including 78 departments, 38 colleges and Oxford University Press, is the largest employer in Oxfordshire, supporting around 17,000 jobs and injecting more than £750 million annually into the regional economy.
Apprenticeships at the University of Oxford
The University of Oxford has a long history of providing high quality Apprenticeships that support local young people in their transition from education in to work, leading to permanent jobs with excellent progression prospects. An amazing 93% of Apprentices stay with the University in full time, permanent employment.
The last three years have seen an expansion in the number of Apprentices employed across the University and colleges from around 10 to just over 100 and increasing all the time. There is a wide variety of levels and types of Apprenticeships available.
The University of Oxford pays the Living Wage to help Apprentices to live independently, setting a fantastic example to other Apprenticeship employers. Currently £16,039, it is paid to all first year Apprentices regardless of the type and level of Apprenticeship they're doing and increases year on year during the Apprenticeship. The University partakes in a programme of outreach and awareness to ensure young people from all backgrounds are aware of the opportunities available to them and that an Apprenticeship is an affordable option at the University. 
The University holds an annual University Apprenticeships Awards Ceremony to recognise the achievements of Apprentices and their managers and to award completion certificates to graduating Apprentices who have finished during the preceding year. The ceremony is held in the iconic Sheldonian Theatre, where the University awards its degrees, signifying that Apprenticeships are given equal value by the University.
The University has its own Apprenticeship Ambassador scheme as well as supporting the Oxfordshire Apprenticeships Ambassador scheme, which eight University of Oxford Apprentices have taken part in since it began in March 2015.
Support to achieve potential
Sophie Jamieson joined the University of Oxford as a Laboratory Technician Apprentice in September 2013. After completing Level 2 and 3 qualifications, she is now working towards a Foundation Degree and plans to study Biomedical Science at university this September.
Sophie says: "The Apprenticeship was the best decision of my life and has really helped me grow and mature. I have gained so much from my Apprenticeship; I now have a good understanding of laboratory procedures and skills such as cell culture, but I have also gained experience of how to work in a professional environment. If anything, the main benefit of my Apprenticeship has been gaining new transferrable skills that will help me on my future career path. I've always felt extremely supported in the University to push myself and develop these skills and I've been given great opportunities to do so."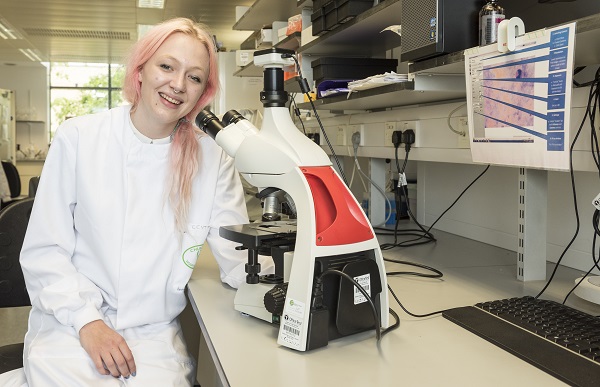 Ed Collett of Abingdon & Witney College says: "We are very proud to be working in close partnership with such a supportive and forward-thinking employer as the University of Oxford."
"Following her Level 2 and Level 3 qualifications, Sophie has undertaken a Foundation Degree in Life Sciences, enabling her to continue her studies with the college alongside her work at the University.  This requires significant commitment in terms of both time, money and effort from the University and further demonstrates their commitment to increasing inclusivity and promoting equality and diversity in their workforce."
"We have had a number of Apprentices successfully complete this framework with us but none has had the support and opportunity afforded Sophie by at the University. We always strive to work with employers who we know will fully support and encourage their Apprentices to achieve their full potential. It is our opinion that the University has gone far beyond anything we would expect normally of our employer partners in training and developing Sophie."