Title
Oxfordshire Apprenticeship Awards recognise Apprenticeship All-Stars
The inaugural Oxfordshire Apprenticeship Awards recognised the best talent in the county with a special presentation evening on Wednesday 8th March 2017 at the Marlborough Enterprise Centre in Woodstock, during the 10th National Apprenticeship Week. These new awards enabled Oxfordshire Apprenticeships to celebrate the achievements of the county's Apprentices and recognise the huge contribution they make to our local economy across a wide number of organisations and sectors.
In addition to focusing on Apprentices themselves, the Awards also recognised schools, who play a crucial role in inspiring people to consider and start an Apprenticeship, as well as training providers, who support and guide them through the progamme.
The School Award was won by Faringdon Community College (FCC). The Award was presented by Lindsey Young of sponsor Clarkson Evans, who commended the school for regarding achievement through Apprenticeships as equal to Oxbridge success and the individual support given to each student.
Careers Adviser Tina Belcher, who accepted the award, said: "I would like to say what a privilege it is to work with the students at FCC and to be part of their journey into a fulfilling and worthwhile career. When I looked around the room and saw so many enthusiastic and motivated young people it made all the hard work worthwhile."
Headteacher Colin Profitt said: "It was great just to be nominated and included in the 'finalist list' for the School Award, along with Larkmead School and The Marlborough School. The evening was capped for us when we were announced as the winners of the School Award for Oxfordshire. The judges were impressed with the work Tina does, especially as she supports the students pursuing all career paths, from those who choose the university route to the students who prefer the Apprenticeship route. The school received a trophy, £200 and a visit to the sponsors, Clarkson Evans, with students. This is a great achievement for the school and all credit to Tina Belcher for her hard work and dedication with the students and for establishing strong links with employers and local educational establishments."
The Apprentice of the Year Award was won by Chloe Penniston, a Legal Services Apprentice at The Burnside Partnership, a boutique private client law firm based in Combe, West Oxfordshire. Chloe was also named Advanced Apprentice of the Year and was chosen as the overall winner by headline sponsors Darke & Taylor because she is an inspirational Apprentice, dedicated to her role and her team, who has quickly become an integral part of the business and a role model both for her colleagues and for businesses considering employing an Apprentice.
Chloe says: "Winning Advanced Apprentice of the Year and Oxfordshire Apprentice of the Year 2017 has been an amazing experience. I would never have thought that I could win two such brilliant awards. The whole evening was such a fantastic experience, which I will never forget! I am so grateful for everyone's support and would like to say a huge thank you to my wonderful employers for giving me this opportunity. I could not have got this far without them or my family and friends who have been so supportive."
"The Burnside Partnership have helped me overcome so many fears and have given me so much confidence in my work. I feel as though I have achieved so much over the course of my Apprenticeship and have learnt so many valuable lessons. Winning those awards mean the world to me and I cannot explain how happy and grateful I am. I believe the awards are a true reflection of how great my Apprenticeship has been and I would honestly recommend Apprenticeships to everyone!"
"Oxfordshire Apprenticeships displayed such a great evening at Marlborough School and I believe that they identified the true importance of Apprenticeships and what they means to everyone involved. What really stood out was how many amazing Apprentices were there and what great hurdles so many of them have crossed during their Apprenticeships. It was great to see so many companies supporting Apprenticeships and so many brilliant ambassadors who are so helpful and supportive."
Fiona Wheeler, Partner at The Burnside Partnership, said: "We were absolutely thrilled to have Chloe's hard work recognised at such an amazing event. Chloe is an outstanding Apprentice and has worked tirelessly to build on her skills and knowledge and to contribute to our team. We are also delighted to have the opportunity to bring awareness legal Apprenticeships to a wider audience. We believe that Apprenticeships are a really important alternative route to a legal career and the more potential Apprentices and employers who know about them, the better. We are very grateful to Oxfordshire Apprenticeships for their help in getting us started as an Apprentice employer and to CILEX Law School for the excellent training they have provided." 
Oxfordshire's Apprenticeship Ambassadors were also recognised at the event, with ten Ambassadors who have made an exceptional commitment to the scheme attending the event and a special Apprenticeship Ambassador of the Year Award made by Oxfordshire Apprenticeships to Emily Bampton, a Relationship Management Apprentice at NatWest, for the work she has done with her former school and also within her own workplace.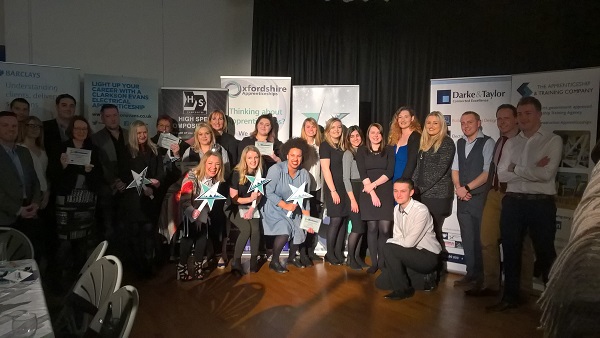 Winning and highly commended Apprentices, schools and training providers are listed below:
School Award - sponsored by Clarkson Evans
Winner:
Faringdon Community College
Highly commended:
Larkmead School
The Marlborough School
Intermediate Apprentice of the Year - sponsored by Barclays
Winner:
Sasha Fraser - Horticulture, Oxford City Council
Highly commended:
Adam Fisk - Joinery, University of Oxford
Merrin Honey - Business Admin, Oxford University Hospitals NHS Foundation Trust
Advanced Apprentice of the Year - sponsored by High Spec Composites
Winner:
Chloe Penniston - Legal Services, The Burnside Partnership
Highly commended:
Kyle Hallett - Engineering, University of Oxford
Cain Reddick - Engineering, SS Tube Technology
Higher Apprentice of the Year - sponsored by Integration Technology Ltd
Winner:
Jessica Le Jeune - Business Innovation & Growth, Nielsen
Highly commended:
Lorraine Ball - Adult Social Care, Home Instead Senior Care
Oliver Swaden - Business Innovation & Growth, Nielsen
Training Provider Award - sponsored by The Apprenticeship & Training Company Ltd
Winner:
Abingdon & Witney College
Highly commended:
ACE Training
Jewel Training
Special Recognition Award - sponsored by NatWest
Winner:
Gemma Tuckey - Business Admin, Oxfordshire County Council
Highly commended:
Alex Free - Customer Service, Yellow Submarine
Ian Rigsby - Customer Service, Yellow Submarine
Apprenticeship Ambassador Award - sponsored by Oxfordshire Apprenticeships
Winner:
Emily Bampton - Relationship Management, NatWest
Oxfordshire Apprentice of the Year Award - sponsored by Darke & Taylor
Winner:
Chloe Penniston - Legal Services, The Burnside Partnership
More about the Awards...
See Sarah and Ambassador Emily, Relationship Management Apprentice, speaking from the Awards to That's TV Oxfordshire.
Businesses and organisations from across the county offered their support, with individual awards being sponsored by Barclays, NatWest, Clarkson Evans, The Apprenticeship & Training Company, High Spec Composites and Integration Technology Ltd. A host of other organisations such as Blenheim Palace, University of Oxford and Arrow Productions sponsoring various aspects of the event and donating services.
Oxfordshire Apprenticeships received a grant from the Skills Funding Agency via the Thames Valley Apprenticeship Ambassador Network to support the Oxfordshire Apprenticeship Awards. In addition to contributing to the event, the funding will enable some collaborative working on the development of young Apprenticeship Ambassador Schemes like the one we have in Oxfordshire in other regions.