Title
Students build a future in construction at Icknield Community College
Students at Icknield Community College got the chance to try a career in construction for size at a special careers event organised by the Oxfordshire Local Enterprise (OxLEP) Skills Team.
Students from years 8 to 10 had the opportunity to learn about bricklaying and try it out for themselves with Trade School – a joint initiative from building firm Wain & Francis and ACE Training, funded by Oxfordshire Local Enterprise Partnership.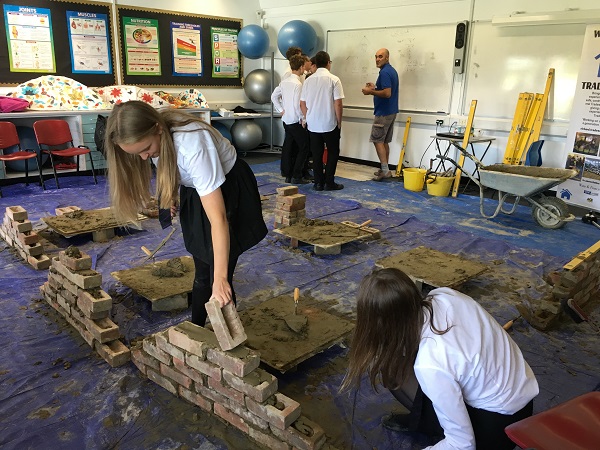 They also took part in a wiring workshop with electrical contractor Clarkson Evans and a trunking challenge with electrical engineering firm Darke & Taylor - to spark their interest in a career as an electrician.
The students also found out all about architecture from Rhian Woods of Watlington-based Purple Architects, who set them a challenge to design their dream house using cardboard boxes.
Having been inspired by their hands on experiences, the students had the opportunity to ask lots of questions of a variety of professionals from different construction backgrounds through a 'human library' session. This included Dean Averies, Director at Beard Construction, Adam Mullins, Estimator at Symm,
Kate Wyatt, Business Development Manager at Basil Wyatt & Sons and Richard Francis, Building Director at Wain & Francis and his Apprentice Samm Murphy.
Aoife from the OA team and Apprenticeship Ambassador Chloe, who has recently completed a Legal Services Apprenticeship with The Burnside Partnership, were also invited to be a human 'books' about Apprenticeships, talking to groups of students about what it's like to be an Apprentice and answering questions on Apprenticeships as a route into a career in construction.
Here's what some of the students had to say about the experience:
"Today has really helped me to think more about what further education route I want to take. I'm thinking more seriously about Apprenticeships than I was. Really useful day!" Max, Year 9
"Today has been really interesting and fun – it confirms that I definitely want to be an electrician and get an Apprenticeship!"  Harvey, Year 10
"My favourite part of the day was working with Trade School on the bricklaying.  They were really encouraging and taught me a lot about how I should think about my next steps – plus – we are really proud of the wall we built!  We are going to try and build a BBQ in the garden at home!"  Leah and Georgia, Year 9
"I didn't realise that you could get a degree whilst doing an Apprenticeship. I'm really excited about looking into this more, it seems like a much better way to learn!"  Hannah, Year 9
"I didn't realise how much money I could earn whilst I learn at just age 16. This is definitely something that would motivate me to do an Apprenticeship!" George, Year 9
"I was really nervous about some of the practical activities as there were only a couple of us girls but I was really proud that I managed to post the 3rd fastest time in the 'Trunking Race' – it's given me lots of confidence." Caitlin, Year 8
Please get in touch if you'd like to talk to us about arranging a construction taster day at your school.