Title
Social Sidekick win Cherwell Business Awards Apprenticeship of the Year 2017
Oxfordshire Apprenticeships were delighted to celebrate the best of Apprenticeships in Cherwell last Friday as proud sponsors of the Cherwell Business Awards 'Apprenticeship of the Year' Award for the third year. The award went to Banbury-based Social Sidekick, with congratulations also going to our fantastic runners-up, both also based in Banbury – Fine Lady Bakeries and Prodrive.
Social Sidekick is a Social Media Management Agency, designed to take the hassle out of social media for small businesses. It was founded in 2013 by Catalogues 4 Business Digital Director Richard Hunter.
The firm recruited their first Apprentice approximately three years ago to help start and manage the Agency. Since then, six more Apprentices have been trained to manage a portfolio of around 10 clients. This enables them to gain real experience and understanding of a digital marketing environment and all the associated accompanying skills.
Apprentices are encouraged to use their initiative and not to be afraid of making mistakes. They are also encouraged to be proactive with their clients, making creative suggestions and offering extra services such as blogs, Facebook competitions and adverts.
Our judges felt that the 'sidekick' deserved to step into the spotlight because of the responsibility and trust the firm gives their Apprentices, showing just how brightly they can shine when given the opportunity. They set a fantastic example to other employers of how Apprentices can be used to grow a business. Social Sidekick really does have Apprentices at its heart and couldn't run without them. They're not just part of the team – they are the team!
They currently have a vacancy for a Social Media & Digital Marketing Apprentice if you'd like to join the team. Find out more.
Richard said: "We are so humbled and excited to have won the Apprenticeship of the Year Award category at the Cherwell Business Awards. It means so much to our team and it really validates everything we have been working towards over the last three years. Having employed 7 Apprentices, we are passionate about training young people to be confident, self-motivated and creative digital marketers. We encourage all businesses, large and small, to consider implementing an Apprenticeship scheme - they are simply brilliant and can change your business in so many positive ways."
Our award was presented by Emily Bampton, a Relationship Management Apprentice at NatWest. Emily was on the judging panel, as we felt that it was important to have an Apprentice's view on what makes an award winning Apprenticeship scheme.
Emily joined us in February 2016 as an Apprenticeship Ambassador and knows how great it feels to win an award, having been crowned Apprenticeship Ambassador of the Year at the inaugural Oxfordshire Apprenticeship Awards during National Apprenticeship Week in March.
Emily said: "What a night! I got to mingle with vets and rising stars of local industry alike, meet all our finalists and I got to command the attention of a room full of people for 3 whole minutes. So a win, win, win! Don't get me wrong I have never been so nervous in my whole life, I mean sooooooooooo nervous. It felt like I was going to spontaneously combust just before I went on, but despite almost falling off the stage I came off feeling like I killed it!! It was an honour to give this award out as we as Apprentices couldn't do what we do without the support of our employers. Nights like these are important in not only recognition of Apprenticeships but also in education. Hopefully we got through to more people who could be fundamental in raising the profile of Apprenticeships locally."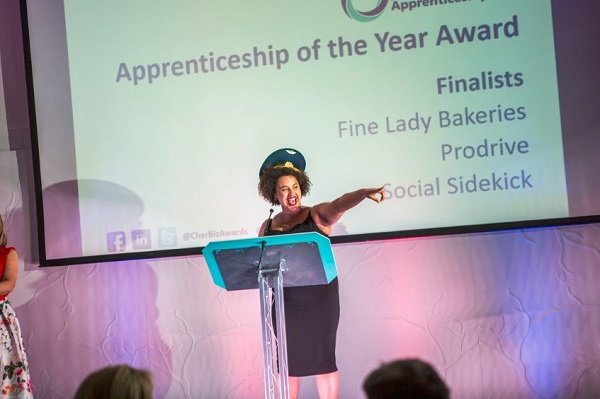 Over 240 people attended Gala Dinner, held at the fabulous Heythrop Park, to celebrate the hard work, success and entrepreneurship of business people within Cherwell District. It was fantastic to see Apprenticeship schemes celebrated as a mark of success alongside other aspects of business such as innovation and creativity.
With an increase of 21% in 16-18 year olds starting an Apprenticeship in Cherwell during 2015/16 and a quarter of Oxfordshire's Apprentices living in the district, we're grateful to the Cherwell Business Awards organising committee for giving us this opportunity to recognise the commitment of local Apprenticeship employers and share good practice.
Visit our Facebook page to see our pics from the night.